Chibi Ivis, transformed into a Chibi, by Koko Gaap.
Appearance
Edit
All Chibi's are the same. Same, appearance. There are 2 types of Ivis released in 2013: Chibi Original, and Summer Chibi Swimsuit Ivis CODE: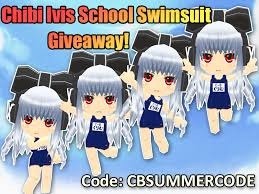 CBSUMMERCODE
---
Mahou/Magic Circle: Crimson Veil
Tumble: Crimson Veil Tumble
Koko Gaap, in the wanders of the forest, and searching for her 'toys' to play with, and become Chibi's. Met Ivis on the way, and turned her into one. Since Crim is pleased with Ivis' form, she also wanted to stay for a while.
-Summer School Swimsuit Ivis-
Still in her chibi form, Crim wanted to go to the beach, while Ivis tought of a trickery. In the beach, she stole Crim's school swimsuit, while Crim asks where is it, lying. Ivis is very pleased with her trickery to Crim.
Transformation
Edit