Crimrose (Nicknamed as 'Crim' by Ivis), is now one of the "Choose your starter robot" collection. She is successfully easier to handle with such pro-op-robots.
Appearance
Edit
Crim has a yellow/blonde hair, with wearing a red-dressed mechanic dress, 'like' from MJG (Mecha Jetter Girl).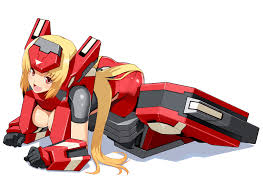 Crim does not have a 'left' or 'right' mouse button to click of. At first she was equipped to have a "Hand gun" and a normal sword-like lance. In order to have her a mouse button to handle with, she needs a "Seraph Promo FC (not HD), Summer/Original (HD)/Original".
Transformations
Edit