Chibi School Swimsuit Ivis, a transformation of the original Chibi Ivis. Transformed by Koko Gaap.
Apperance
Edit
Same as her gothic dress, replaced by Crim's School Swimsuit.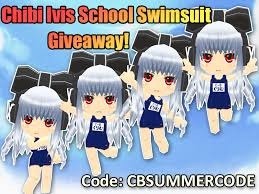 ---
Mahou/Magic Circle: Crimson Veil
Tumble: Crimson Veil Tumble
Still in her chibi form, Crim wanted to go to the beach, while Ivis tought of a trickery. In the beach, she stole Crim's school swimsuit, while Crim asks where is it, lying. Ivis is very pleased with her trickery to Crim.
Transformation
Edit